After what has felt like a long winter break from racing, Banbridge Cycling Club will once again open the Irish road racing season with the Travers Engineering Annaclone GP this Saturday, 7th March. With over 120 riders expected along with support crews and race officials Annaclone village is expected to be a hive of activity both in the lead up to and following the mid-day race start.
Two races will be on offer for competitors; a handicapped race catering for A1, A2 and A3 categories and a mass start A4 support race. The usual circuit starting from the Hawthorn Inn will be used, taking in Richies Bridge before a sharp left through Annaclone Village, Mays Corner and Katesbridge before returning to the Hawthorn Inn via the Ardbrin Rd. The 'A' race for A1, 2 & 3's will be 6 laps of the traditional rolling circuit for a total race distance of approx. 50 miles / 80 km, with the winner being awarded the Eddie Sands Memorial Cup. The 'B' race for A4 men and A3/A4 women will cover 4 laps of the same course giving a total distance of approx. 32 miles / 51 km.
In addition to the Eddie Sands Memorial Cup for the winner of the 'A' race, the winner of the 'B' race will be awarded the Travers Cup.
The 'A' race has attracted a list of names which will be well known on the Irish racing circuit.  Caldwell Cycles pairing of 2021 winner Gareth O'Neill and Darnell Moore have been two of the most consistent competitors in recent years and will be closely watched.  Banbridge resident, Lindsay Watson of Powerhouse Sport, who has previously led the Irish Elite rankings, will be looking to start the season off well and rectify his runners up spot in the event in previous years. Donegal man Mitchell McLaughlin will be aiming to get a winning start for his new professional team, EvoPro Racing.  Other favourites are likely to be the Smith brothers from Cavan, Shane and Luke; both of whom have a winning history with Banbridge CC promoted events. Another consistent rider has been Dromara CC's Nathan Mullen who was runner up at Annaclone last year and will surely be looking to go one further in 2022.
Paul Antoine Hagan will lead the promoting club's charge. He will be joined by multiple National Champion and International Mountain biker Gareth McKee in the 'A' race along with Banbridge CC team mates Dan Purdy, Mark Kendall, Johnny McRoberts, James MacMahon, Stevie Fitzsimmons, Richard McBride and Aaron Parks, all of who are very capable and keen to their mark on their first home event of the season.
In the 'B' race club newcomers John Irvine and Trevor Wright will both be donning the famous Banbridge jersey for the first time and hoping to excel in their debut.
Both races are expected to finish between 1:30 and 2pm outside the Hawthorn Inn, Annaclone.
Race 1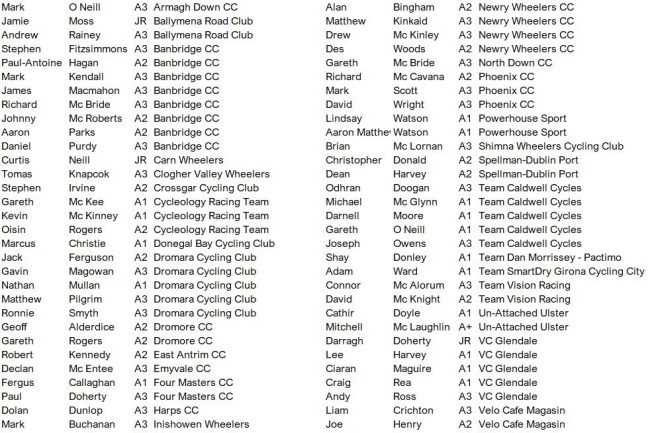 Race 2