Banbridge Cycling Club are excited to confirm the 2023 Banbridge Crit with an updated format for the popular town centre event on Friday 12th May.  Keeping the main feature event, as in previous editions, for the Elite riders and attracting the very best of Irish domestic criterium riders, we are delighted to announce the addition of a programme of Youth races as part of the event.
The Club have once again been able to secure the technical, challenging and crowd pleasing, fully closed  1km circuit, starting and finishing on Banbridge town's main high street – Newry St – keeping the fast paced action of crit racing in the accessible town centre where it belongs.  We will also be joined by race announcer and MC Pat 'Shocks' O'Shoughnessy who always does a tremendous job at keeping the spectating crowd informed and entertained.
A total of 4 races will be promoted on the evening;  The headline feature event for our Elite rider will commence at 8pm, with 2 hot spot prime sprints at 15 and 30 minutes and lasting approx. 1 hour.  3 Youth events will also be promoted;  The 1st race of the evening will cater for Under 12 riders and will start at 6:30pm.  Next up will be the Under 14 race which will start at 18:50.  The last of the Youth races will be the U16 race which will start at 7:15pm, lasting approx. 30 mins and include 1 hot spot prime sprint.
Always a hugely popular event for both riders and spectators, the Banbridge Crit is one of the very last perpetual town centre criteriums in Ireland and attracts an enthusiastic crowd of supporters who enjoy the close action.  Having hosted the Irish National and Ulster Championships in previous years a quality field is always ensured, and the short 1km town centre circuit guarantees the action is continuous with riders completing each lap approximately every 90 seconds.
Entry for all races will strictly be pre-registration only.   Registration is now open and will be closing on Wednesday 10th May at 9pm.
You can access the registration portal here.
Further event details will be posted on the Banbridge CC website in the coming days and weeks.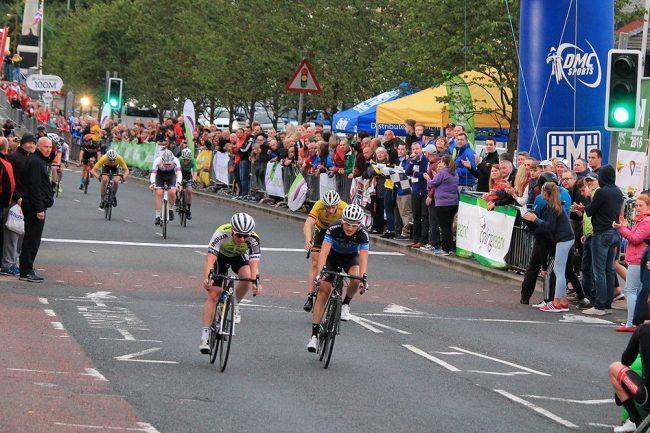 Banbridge Crit attracts the crowds to the town centre who always enjoy the up close night's racing entertainment.