Voting for the 2023 Banbridge CC Club Person of the year is now open, club members can vote here.
The below list of nominees were shortlisted at the recent October club meeting, with voting open to all Banbridge CC members.  We once again have a very worthy list of nominations, all of which should be congratulated and thanked for their efforts and service to Banbridge CC over the last 12 months.
A short briefing on each nominee is listed below to assist with voting.  The winner will be announced at the Winter BBQ Social Night and Awards Presentation on Friday 10th November in Banbridge Hockey Club where they will be presented with the Towell Trophy.
Martin Duffy
Martin has been central to the revival of Time Trialling within the club to a participation level never seen before in Banbridge CC. Martin's frequent and entertaining race reports of the BCC time trial competitors ensures enthusiasm is maintained and club members and followers are kept up to date on TT activities and accomplishments. This year he extended the reports to rider profiles for the club website under the 'Merchants of Speed' and 'Peloton People' series.
Martin is also the club clothing officer, and regularly assists riders competing in open races when not competing himself.
Paul Hannigan

Paul is a familiar sight to those attending Banbridge CC events, often seen with camera in hand capturing the competitors and event action. Paul's photos are regularly used for media and publications including local newspapers, websites, and social media, all of which help with the promotion of Banbridge CC and our events.
Not limited to local events, Paul regularly travels to national 'open race' event to capture our members in action when competing.
Hazel Buller & Lydia Beattie

A shared nomination for our most active Timekeeping volunteers, both Hazel and Lydia are a constant presence at our club races and open events, providing a dependable and accurate service with an ever-present smile on the finish line in all weathers.  Feedback from event officials working on Banbridge CC events is consistently positive when working with Hazel & Lydia, not just for the technical delivery of their timekeeping, but for the warm welcome they share for visitors.
Toni Hannigan
Toni holds several roles within the club.  She fronts the weekly club events as the Club Race Secretary, coordinating the efforts and activities of the numerous volunteers who assist with our club race and inter-club promotions. Toni also helps organise some of our social events including the annual prize dinner and last year introduced a Christmas children's party.
As the club's long serving Press Officer Toni maintains the club's relationship with the local newspapers to ensure club news and accomplishments are published.
Mark Kendall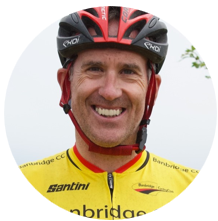 Mark holds one of the most demanding roles in the club as General Secretary.  Managing club correspondence, communication, membership, and general administration requires a significant investment of time and skill.  Mark has introduced a higher level of efficiency to the role, delivering an effective and valuable service to our members.  In addition, Mark manages the administrative tasks of the club races and inter-club races including co-ordination and setup of event entries, submission of risk assessments and handicapping for road races.
In 2023 Mark introduced and successfully organised a 4-week Cycling Skills series, targeting youth riders in August.